Our Vision
Our vision guides every aspect of our business by describing our accomplishments that would further facilitate our sustainable growth.


Clients: Foster long term relationships by delivering the best outcome every time.
Employees: Create a friendly, open-minded working culture in the organization where the employees achieve their potential.
Partners: Create mutually beneficial partnerships with complementary business and nurture the spirit of working together as a cohesive team.
Profit: Become a USD 1 Billion Company by 2020.
Efficiency: Strive to evolve the business/technology processes and optimize productivity.
---
Our Mission
Virtue TechSoft's mission declares the purpose of our existence as an IT Solutions Company and a benchmark against which we base our business decisions and actions.

To empower businesses with latest technologies.
To act as pioneers in Technology Innovation.
To create real value through our Solutions and touch people's lives.
---
Our Values
Our values define our corporate behavior as well our actions as human beings.


Ethics: Ensure highest work ethics when dealing with colleagues, clients, partners and overall self.
Transparency: Have no hidden agendas, falsified commitments to clients or inflated capabilities.
Constructive self-criticism: Accept mistakes, appreciate achievements and facilitate self improvement.
Respect: At all times; respect deadlines, perspectives and ideas. Passion: Commitment towards the goal
Responsibility: If it to be, it is up to me.
Quality: What we do, we do well.
Our sustainable competitive advantage is that we honor our commitments while ensuring highest quality work within budget constraints.
Methodology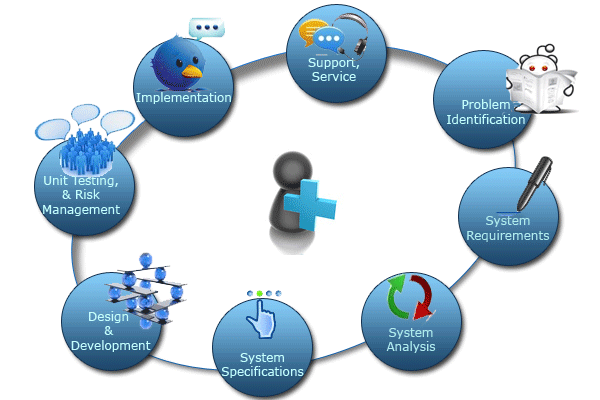 The ease with which we are able to make changes from the backend and also allow updates to be done without interrupting system process is as a result of the programming language we use and the approach we have adopted from the Software Development Life Cycle. This allows us to maintain your system easily and without ever shutting down services or disabling system processes. We understand that an enterprise that excels is the one that is more competitive in terms of the software it embraces as its tool to greater and more accommodative work ethics, achieved by embracing leading technology.
System integration, a step in the life cycle, allows us to use whatever hardware and software that you already have in place to work with our software. The distributed system will work on any terminal provided it has been in use before, making us capable of combining your legacy system with what we bring in to get the required results.
The specifications that we give are for the servers that run our system. Since it is wholly an application system, it follows then that a dedicated application server that can hold a distributed system is used. The server should in the list run database services, fault tolerance checks, security and load balancing services. Since the server will be handling multiple requests from varied terminals, it follows then that the transaction processes be handled by the same server environment so as to ease the flow of data.
Technologies

At Virtue TechSoft, we work with the latest in development technologies. Our largest codebase and most number of projects have been in Java closely followed by .Net, Visual Studio 2010 and PHP are the standard development tools at Virtue TechSoft's. We also have expertise in other development technologies, Our database programmers and administrators have worked with Oracle 10g, Sql Server 2008 R2 and MySql databases. Our team ensures that all our database layers are tuned to the best performance possible.
Engagement Models

Virtue TechSoft engages its clients in various flexible ways using our refined engagement models to manage client requirements that could be one-time or on-going multi-year projects.
Virtue TechSoft is in the market for offshore outsourcing services since 2008, enjoying high customer retention rates and building lasting relationships with first-tier companies. Virtue TechSoft is an attentive partner, flexible in tuning the established engagement models and helping each client make the most out of the partnership. Our engagement management practices are built in accordance with the eSourcing Capability Model for Service Providers (eSCM SP).
Virtue TechSoft engagement specialists customize the engagement model to work around the client enterprise specifics - from business goals to project management and HR practices. A neatly developed framework guides all partnership processes, whereas a properly organized and structured cooperation is a way to combat risks while receiving all the benefits of an outsourcing venture. We provide clients with proven, experienced program managers, designers and architects to review, select, architect, design, and develop their business systems.
Virtue TechSoft Offers Different Engagement Models To Meet Global Clients' Diverse Needs
Fixed Time/Fixed Cost Project Model
Dedicated Teams Model (DTM)
We can also customize our engagement models to address your specific business needs. Please contact us regarding your project requirements and one our representative shall get in touch with you shortly.
Fixed Time/Fixed Cost Project Model
Virtue TechSoftoffers customers a fixed time / fixed price model when the scope and specifications of the project are reasonably clear. Under this low-risk model we work with clients to define expected deliverables and timelines to determine a mutually agreed fixed price. Our refined process guarantees reliability, predictability and optimized performance of the projects and assures on-time and on-budget outcomes.
This model is best suited for small projects or for large projects when the scope, schedules and requirements of the project are specifically defined. The total cost and timeline of the development is agreed prior to the start of the project. Then we select the most suitable development team and technologies and management resources to accomplish the project as agreed. Any new features or major changes later on are discussed and quoted separately. As the projects specs and deliverables are clearly defined prior to the project start, this model guarantees on-time, on-budget delivery of projects.
Dedicated Teams Model (DTM)
Dedicated Teams Model (DTM) is an excellent solution if you need a complete control over human and technical resources involved into the development process. DTM features a high level of transparency, security, flexibility and scalability. All infrastructure and personnel are at your dedicated service as long as you need them for a fixed monthly fee. DTM is a good choice if you need a team of highly-qualified professionals that will exactly match your IT and business needs. This makes the development process more explicit and manageable and ensures a higher resources efficiency.
Dedicated teams operate as an extension of the customer's development center. In this model, Virtue TechSoft forms project teams with the required team members, project managers, equipment and infrastructure based on client requirements. For such dedicated relationships, we may offer implement customer specific quality/process frameworks trained for the specific needs of a client. The advantage coming from moving your software development operations offshore is that it determines significant savings on staff, equipment and technology, giving you the possibility to concentrate more on the business part, in order to reduce risk and gain a better position on the market.
Benefits Of Using Virtue TechSoft Dedicated Teams Model (DTM)
Virtue TechSoft has a vast pool of multi-disciplinary resources to organize a tailored DTM engagement for any type of web or application project requirements.
Flexible option to start with just one dedicated resource.
Vast pool of IT resources with diverse skills and experience.
Complete control over the team structure (involvement/replacement/withdrawal)
Team working time adjustment for your time zone.
Rapid team scaling/involvement of specific subject matter experts on an ad hoc basis.
Ready to use IT infrastructure
Adoption of your process and methodologies upon requirements.
Transparent process and comprehensive reporting.
Complete control over your projects flow (requirements/schedules/deliverables etc.)
Established intellectual property protection procedures and mechanisms.